Peter's POV
Today was another travel day. Today I woke up and something very strange happened the ground swayed beneath my feet. Then I realised that I was on a boat. We had a delicious breakfast and headed out for our last activity, Surprise Cave. When our boat parked and we looked around at all of the other boats in the bay we knew that we were going to be crammed in the cave with a million people.
When we got onto dry land I resisted the urge to bend down and kiss the ground and instead looked around to try and find someone from our group in the sea of people. When we found our group we tried to listen to our guide talk about the cave but we really couldn't here a word that he said. After waiting for our guide to get tickets we started walking up the steps. After being on a boat for a couple of days we were all excited to stretch our legs and get somewhat of a workout in. It turned out not to be the case. The line up the stairs moved so painfully slow that we couldn't climb more than one stair without getting stuck in line.
When we got to the top we were amazed by all of the cave formations. After a little while we passed all of the people and got to see the cave at a better pace. Here are some pictures I took from the cave.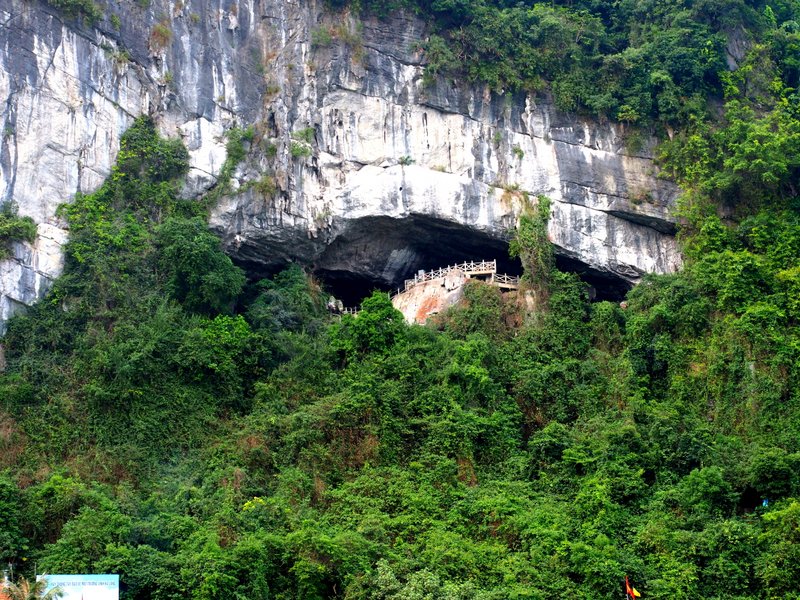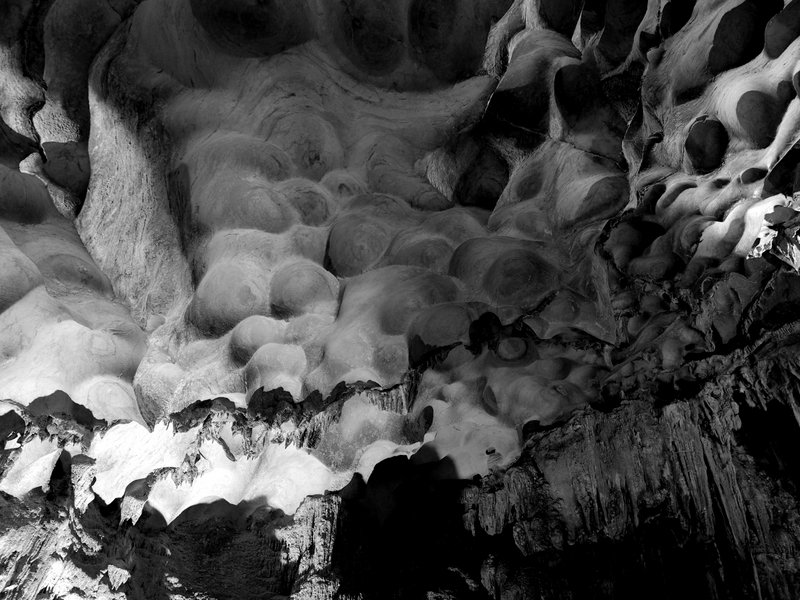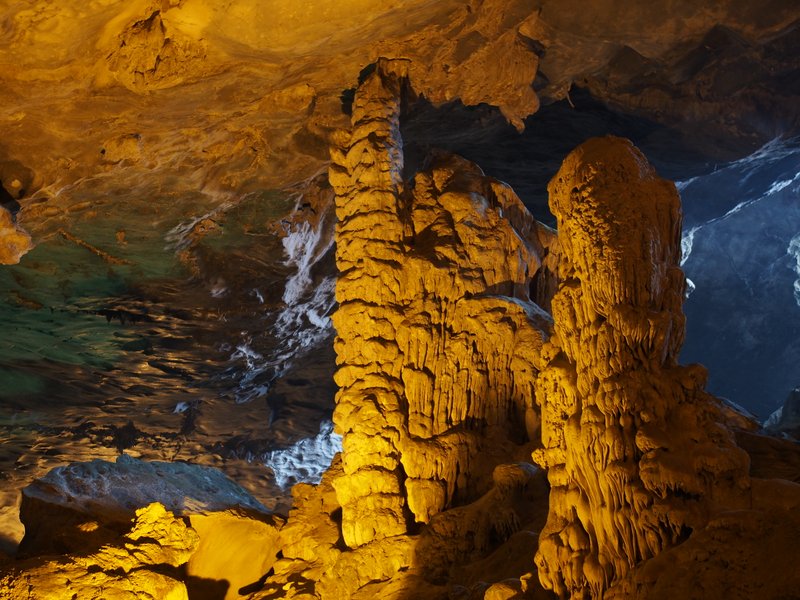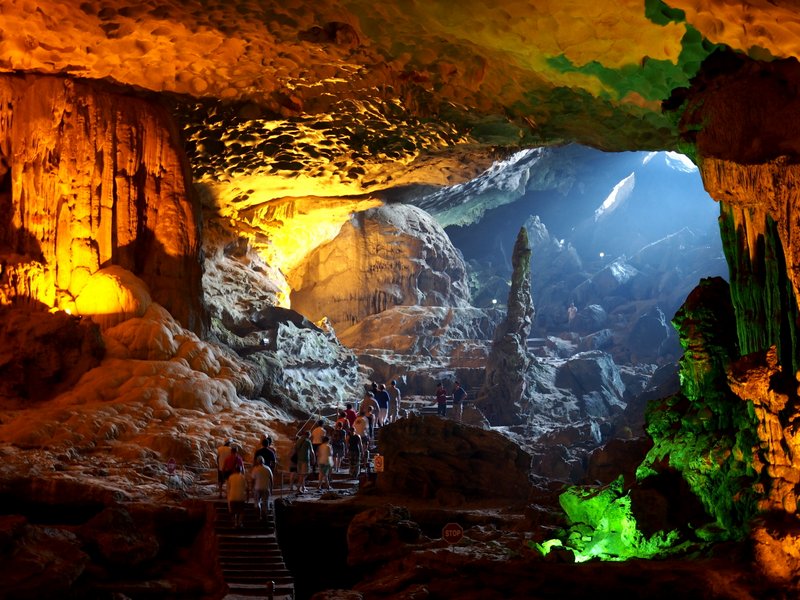 After the exit of the cave there was a beautiful view of the bay.
When we were done with the cave, we got back on the boat and packed up our bags. When after packing up our bags we watched a tea ceremony but about half way through we decided to stop listening and move a cooler spot on the boat. When we got off of the boat we said goodbye to everyone that we met on the boat and began the drive home.
About 3 hours into the drive my dad asked the driver to take us to the airport instead of the hotel that we came from. The driver was clearly not happy about the new information and pulled out his phone and phoned his office. He handed the phone to my mom and she told them what was happening. They told her that she needed to pay $30 extra for the driver to take us to the airport. She asked the person on the phone if the airport is closer to Ha Long Bay than the hotel and she said yes. My mom then asked if it made sense to pay 30 extra dollars if the driver would be off earlier and with more gas in his tank. The person on the phone said yes - ok then off we go.
When we got to the airport we had a six hour wait until our flight took off. We spent the beginning of it trying to change our flight. When we got to the ticket desk we were informed by the obviously bored clerk that we couldn't change our flight, even though there were 52 open seats, because we bought the cheapest tickets possible. After asking to see the clerks manager the people at the ticket desk finally caved. We got a flight four hours earlier and headed off to check our bags.
When we got through security we moved on to our next task, finding food. Finding food in a small domestic terminal is easer said than done when your hungry. Our last meal was at 7:00 and it was now three. We finally found food at a fast food place and tried to order a vegetable noodle soup. The waitress responded by saying that we could only order from the 3 most expensive things on the menu. Luckily they were not that expensive and tasted great. Right after we ordered our meal my mom and sister came over to our table after getting some snacks at a little shop. After doing some math in her head my mom informed us that the lady working at the cash register did not give her enough change. We were starting to wonder if there was a conspiracy to get all of our money.
When we had everything sorted out we headed back to our gate to get on our plane. We got on our plane and the flight went great and we were back on the ground in Da Nang in one and a half hours. When we got into the airport we found our bags and headed off to drive 40 minutes to our house in Hoi An.
The drive was crazy for most of the time it was on a big highway, until like ten minutes before we got to our house. The area around our house is very rural, it reminded me very much of Tanzania. When we got to our house we found it to be very nice and luckily we could buy food to eat in the house. After a short dinner we all fell into bed after a long eventful travel day.